SAT 41 Seiwa antenna: Parabola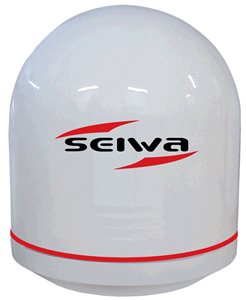 Discontinued
Satellite antenna SAT 41, Seiwa marcho, 41 cm internal satellite dish, 4 memorable satellites, Universal LNB with 3 outputs, 3-axis movement.
Description
? Parabola 41 cm. Enclosure Ø45 x 52h cm.
? 4 satellites that can be stored for 41, 8 for 41S
? 3 axles
? LNB: universal 3 outputs for 41, 4 for 41S
Prices
130-9110

Seiwa SAT 41 Satellite TV antenna

9.638,00

€

130-9120

Seiwa SAT 41S Satellite TV antenna

10.248,00

€
Prices include VAT
Series
Seiwa is also a strong player in the satellite TV antenna segment with a series of excellent quality automatic signal tracking so that the reception is maintained optimal even in navigation with adverse weather conditions.
To achieve this result, the best mechanical components and the most reliable sensors have been carefully selected, so that the position vector calculation is transformed into a prompt response of the antenna to precisely track the signal.
The drawing shows the coverage for the 39 series. However, for use near the boundaries of this area we recommend the 39S model (stabilized on 3 axes) if not a higher model, especially if you use the antenna in navigation conditions with sea format.