Seiwa Multifunction Display RP07 Log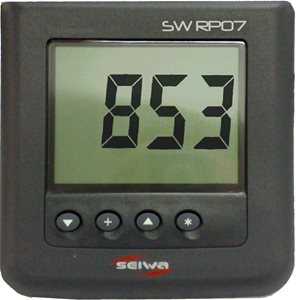 Discontinued
Seiwa digital indicator for boats Model RP07, Collects data on speed, distance, water temperature, etc..
Description
The Seiwa RP07 is an accurate digital instrument that provides information on speed, average speed, partial and total mileage travelled on the route, water temperature, elapsed time and two different timers for races.

A race countdown is selectable in two different start times, from 1 to 99 minutes each. The timer is counted in minutes and also displays the last 10 seconds before it reaches 0. When it reaches and exceeds 0, the timers continue to count the elapsed time.
Technical characteristics
Power supply: 9.50 to 33 Vdc, 37 mA nominal
Operating temperature: 0° to 50° C
Dimensions: 110 x 110 x 89 mm
Available data: Speed, average speed, water temperature, race time, elapsed time.
Accuracy: 0.1 Knot, MPH or KM/H, 0.1 degrees F° or C°
Measuring range: Speed - 0.0 to 50.0 knots (knots)
Temperature? from 0.0 to 32.0 degrees C°
Race timer ? 1 to 99 minutes
Transducers: transducers are available from the stern or through the stern, always with the indication of speed/temperature.
Display: 4 digital lines
LCD, 5 levels of backlight.
Judgments NMEA 0183 : Water temperature , Total/Trip Logs Speed
Prices
120-9300

Seiwa SW RP07 Log - without transducer

248,00

€

Weight:

1

kg; Dimensions:

24

x

20

x

9

cm
Prices include VAT