M-TECH: MT-500 VHF and DSC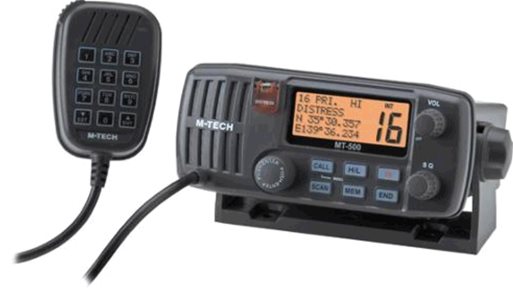 Discontinued
Japanese marine VHF M-TECH MT-500 with functionality; DSC.
Description
The Japanese company M-Tech presents this valuable model of VHF of undoubted quality and value, typical of a product completely made in Japan.

The "Position Send/Request" function is innovative, enabling the possibility of transmitting and receiving the boat's position data.

The large "SELECT/ENT knob" is original and can be turned or pressed, providing easy channel selection and access to the settings menu.

Prices
020-8500

M-Tech MT-500 VHF/DSC, Fixed, Grey

234,00

€
Prices include VAT
Specifications
| | |
| --- | --- |
| Type of product | Fixed |
| Construction | IPx7 (Waterproof for 30 minutes at a depth of one meter) |
| Channels | All International Channels |
| Emerg. | Channel 16 button - Dedicated Distress button for Channel 70 DSC |
| Scan | On All Channels or Stored Channels |
| Dual Watch | No. |
| Rx indicator | No. |
| Frequencies | VHF marine frequencies |
| Power Tx | Max 25 W - Min 1 W |
| Audio Power | 3 W - 4 Ohm |
| Sensitivity | < 0,5µV 20dB Sinad |
| Reiez.Interm. | 70 dB |
| Alimentaz | 13.6 Vdc |
| Autonomy | (depends on on-board batteries) |
| Absorption | Tx: 6.0 A, Standby 200 mA |
| Dimensions | 59h x 160 x 165 mm |
| Weight (kg) | 1150 gr |
| More Carats. | DSC class D, separate receiver for channel 70, position Send/Request, GPS alarm disconnected |
Equipment
Microphone
Bracket
Interface cable