NorCross H22PX Portable Depth Gauge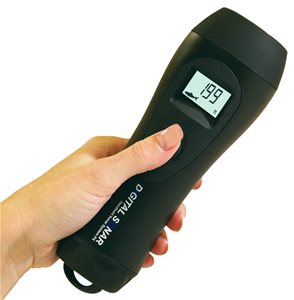 Discontinued
NorCross H22PX depth gauge, suitable for underwater sports, fully portable, floating and waterproof to 60 Mt.
Description
Particularly suitable for those who practice underwater sports, they are in fact completely portable, floating and waterproof up to 60 meters.
They will be useful companions for all the excursions to swim, with the tender, or in roadstead in order to read the effective distance from the cliff and in every case like secondary fishfinder in case the fixed one goes in failure.

A special icon on the backlit display is able to signal the presence of fish. The possibility of measuring the temperature of both air and water is convenient.

The depth reading is very instantaneous and precise thanks to the very fast ultrasonic scanning performed 4 times per second.
It is also equipped with ShootThru technology, which allows you to read through the keels of small boats or piers.

Prices
090-8200

Norcross H22PX Depth/Portable Time

123,00

€
Prices include VAT
Specifications
| | |
| --- | --- |
| Screen | Polarized LCD - 24 x 16 mm |
| Definition | N.P. |
| Construction | Waterproof up to 60 meters (IPx8) |
| Staircases Prof. | Between 0 and 60 m |
| Max Prof. | 50 m |
| Fund Structures | No. |
| A-Scope | No. |
| Fish Symbol | Yes. |
| Fish Track | No. |
| Alarms | No. |
| Speed | No. |
| Temperat. | Measurable for both water and air |
| Power | NP |
| Frequency | 200 KHz |
| Cone Trasd. | 20° |
| Alimentaz. | Using 4 stylus batteries (AA battery) - 30 hours of autonomy |
| Dimensions | 177 x 50 x 50 mm |
| More Carats. | Fully portable and floating, ShootThru technology. |