Lowrance: Fishfinder Elite-5x Display 256 colors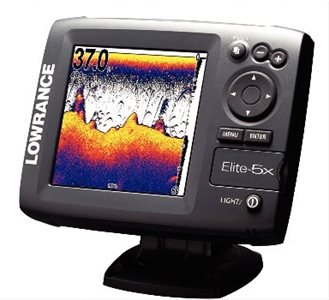 Discontinued
Lowrance Eco Elite-5x, SolarMAX TFT Display 256 colours 5", Power 500 W RMS, Depth; of 305 mt, Dual frequency transducer 83/200 KHz.
Description
The SolarMAX™ TFT 256 colour display with 5"/12.7 cm - 480x480 pixels ensures good brightness, contrast and resolution, with optimal detail display even in bright sunlight and from all angles. Screen adjustments and a backlit keyboard improve night-time use. Its RMS 500W sonar reaches a depth of 305 mt with Skimmer® dual frequency 83/200 kHz, internal temperature sensor and sonar coverage up to 120'. The TrackBack™ function provides quick scroll-back to review the Fishfinder's history.
Prices
090-3140

Lowrance Elite-5x

659,00

€
Prices include VAT
Prerogative
Real 5" SolarMAX™ TFT display in 256 colours - 480x480 pixels.
New attractive design to simplify assembly operations.
500 W RMS, 4,000 W Peak-To-Peak ; depth up to 305 m.
Dual frequency Skimmer transducer 83/200 kHz, integrated temperature sensor and sonar coverage up to 120°.
TrackBack™ function for quick scroll-back of the fishfinder's "history".
Specifications
| | |
| --- | --- |
| Screen | "5" 256-color SolarMAX TFT |
| Definition | 480 x 480 pixels |
| Construction | IPx7 (protected for temporary immersion) and impact resistant chassis |
| Staircases Prof. | |
| Max Prof. | 200 m |
| Fund Structures | To be analysed on colours and WhiteLine |
| A-Scope | No. |
| Fish Symbol | Yes. |
| Fish Track | Yes. |
| Alarms | Yes. |
| Speed | Only with optional sensor |
| Temperat. | Yes. |
| Power | MAX 500 W RMS, 2400W PTP W |
| Frequency | 83/200 kHz |
| Cone Trasd. | |
| Alimentaz. | 10 - 17 Vdc 250 mA Max |
| Dimensions | 174 x 136 x 63 mm |
| More Carats. | |