NASA Depth System Digital Display Fishfinder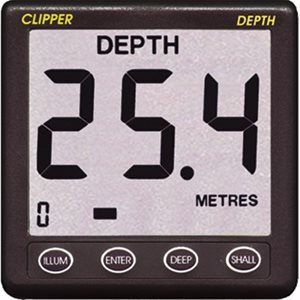 Discontinued
NASA Depth System, Digital Depth Meter, 40mm Character Height, Depth Alarm; and Shallow Water, Standing or Meter Detection.
Description
The whole range of Clipper electronic instruments has a 110 mm display, which allows an easy and clear reading of the data, also thanks to the various levels of backlighting.
Technical Specifications
Figures 40 mm high
Depth and shallow water alarm (acoustic and visual)
Foot or Meter setting
Selectable frequency
Trend Depth Indicator
No echo indicator
High transmission power
All settings stored in non-volatile memory
Tactile Keyboard
Complete with protective cover and transducer
Consumption 20 mA, 25 mA for backlighting (max).
Through Transducer Features
Emission frequency: 150 kHz
Outer diameter : 38,3 mm
Inner diameter : 16 mm
Total length : 106 mm
Thread length : 82 mm
Complete with 7 m cable
Prices
118-0100

Nasa Clipper Fishfinder System

328,00

€

Weight:

1.2

kg; Dimensions:

25

x

20

x

8.5

cm
Prices include VAT