Fishfinder Garmin 400C double frequency 50/200 kHz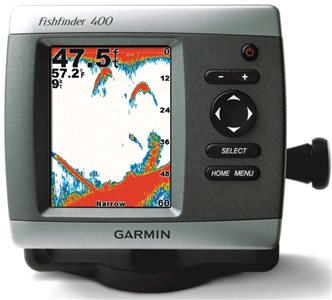 Discontinued
Garmin 400C Fishfinder compatible with 200 KHz Dual Beam 400 watt (RMS) or 50/200 KHz 500 watt (RMS) dual frequency transducers.
Description
Fishfinder with large display and visible under sunlight, able to represent every detail thanks to its high resolution (320x240 pixels) and the brilliance of the colors.
Extremely versatile instrument can work with 200 kHz Dual Beam or 50/200 kHz dual frequency transducers. The 200 kHz Dual Beam transducer is particularly suitable for fishing in shallow waters such as lakes or bays, the 50/200 kHz is best suited to reach high depths.
See-Thru" technology allows fish to be displayed separately from thermoclinics or structures. Equipped with DCG (Depth Control Gain) technology for very detailed bottom images thanks to automatic sensitivity adjustment. Ideal for dashboard mounting, it comes with an innovative 360° swivel bracket with quick-release mechanism for added safety and convenience.
Prices
090-7204

Garmin 400C - without Transducer

344,00

€

090-7212

Garmin 400C - T.Poppa & Temp, 50/200KHz

416,00

€

090-7216

Garmin 400C - Stern Transducer Grinder, 50/200KHz

482,00

€
Prices include VAT
Equipment
Bracket with knobs
Power cable
Stern transducer 50/200 KHz with speed sensor Optional
Frontal protective cover